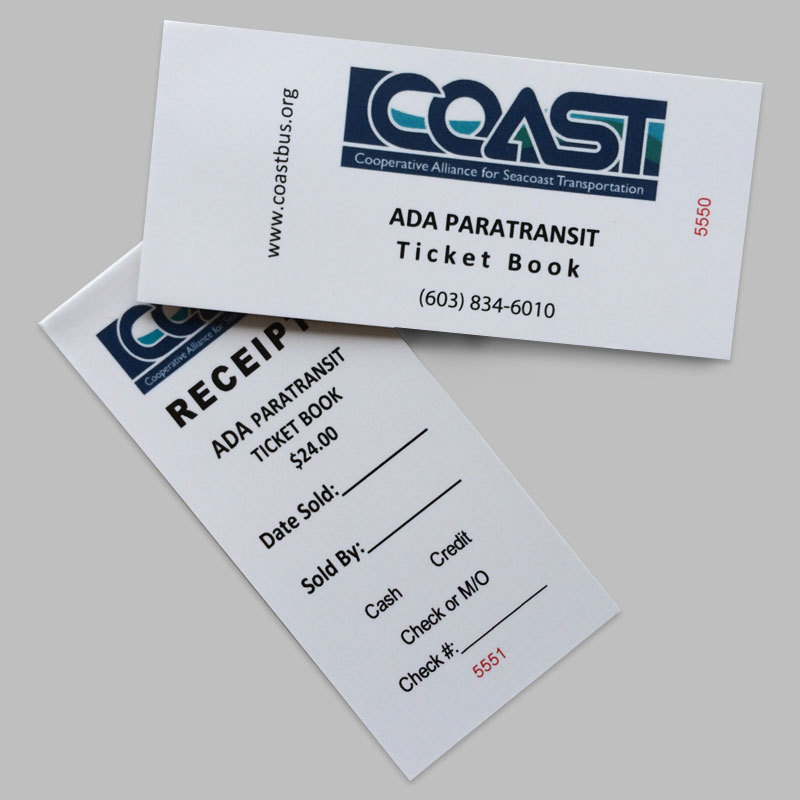 ADA Paratransit Ticket Book
These tickets are valid only to pay for trips taken by qualified individuals on COAST's ADA Paratransit Service.
ADA Tickets are a great way to pay for your trip on COAST's ADA paratransit services without needing to worry about carrying the exact fare in cash. Each book has eight (8) tickets with the equivalent value of $3.00 each.
If you need help determining how many tickets you may need to purchase, or if you are interested in applying for COAST's ADA Paratransit service, please call (603) 743-5777, Option 2.
Looking to buy Ticket Books for multiple people? You can get them all in one transaction! All you need to do is add each pass to your Shopping Cart one-by-one. Simply add your first Ticket Book order with the first name, and then refresh this page to add a second Ticket Book order with a second name, and so on. When you check out, all of your Ticket Books attached to different names will be in one order.
Reminder
When ordering on this website, please allow enough time (up to seven business days) for your ticket book(s) to arrive by mail. This website will send you a confirmation of your order, but it is not an electronic ticket and our drivers will not accept the confirmation as a valid method for boarding.
If you need your tickets right away, your best option is to visit our office during business hours (9:00 AM - 1:30 PM, M-F) and purchase it in person.