Over 35 Years of Service
COAST was formed in the early 1980s out of a broad community interest to improve mass transportation options in southeastern New Hampshire. We are proud of how far our organization has come in 35 years, and we look forward to continued growth and expansion of our services in the years to come.
Long Before COAST (19th Century – 1970's)
Seacoast New Hampshire had public transit services as far back as the late 19th century. Although trolleys are more typically associated with larger cities such as San Francisco, New Hampshire had them, too. Real trolleys (also known as streetcars or electric railways) existed for a few decades from the 1890s through the 1930s.
In the Seacoast, many of the electric railways converted to bus operation in the mid-1920s. Buses are much cheaper to operate and more flexible, and at the time were considered the next new and exciting technology. 
Streetcar systems were privately owned, usually by a power company, a powerful local business owner, or the major railroad. As streetcars converted to buses, many of the routes and travel patterns stayed the same, as major development had typically occurred around the streetcar systems and lines.
In the decades between the Depression and the late 1970s, many of the bus lines changed ownership. By the late 1970s, there were a handful of private bus lines operating throughout the Seacoast NH region on routes and schedules that generally did not relate to one another.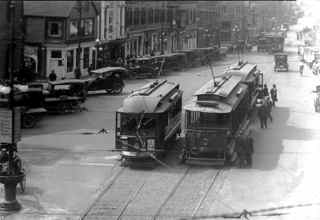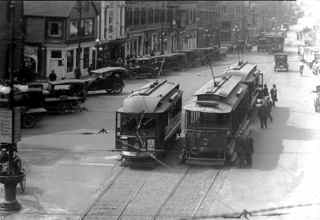 COAST's Early Beginnings (1981-1998)
In 1981, a group of citizens, planners, government representatives and business owners representing the southeastern New Hampshire region began meeting to talk about regional transportation as a public service. They were known as the Strafford-Rockingham Transportation Task Force.
Originally, the idea was to gather many of the social-service providers together to coordinate the limited publicly-supported transportation options available in the region. However, this group quickly realized the need for a coordinated fixed-route bus system to form a backbone of public transportation services that the health and human-service related transportation network could supplement.
It was quickly determined that this should be done through a brokerage model. Under this model, COAST would serve as an umbrella organization, contracting with and coordinating a number of private bus operators and their routes into a cohesive public transportation network.
On March 12, 1981, the Task Force settled on a name for the new entity to perform this work, the Cooperative Alliance for Seacoast Transportation (COAST). The new entity was to work to bring together existing transportation providers, apply to receive Federal subsidies, and expand the remaining bus network for the greater good of the public in the region.
The group also decided to work with the University of New Hampshire to incorporate their "Kari-Van" bus system and have it become open to the public. On April 1, 1981 the New Hampshire Deputy Secretary of State, Robert P. Ambrose, officially recorded COAST as a new voluntary (nonprofit) corporation in the State of NH.
At the outset COAST provided no direct transit service itself, and had no staff. Instead, it contracted with Olde Yankee Transportation Management Company to manage the day-to-day activities of the fledgling organization, which primarily raised funds and established contracts with private bus operators in the area to run the bus routes.
Timeline
1982
Contracted with Olde Yankee Transportation Management Company for Operations Management
Integrated UNH Kari-Van system into the new publicly accessible COAST system.
Fall schedule included services in Dover, Exeter, Newmarket, Portsmouth and three routes from Durham, Somersworth/Dover and Exeter/Portsmouth to the Portsmouth Naval Shipyard.
1983
Newmarket Regional Health Center (now Lamprey Health Care) became part of the new regional system and added four routes operating in the communities of Candia, Durham, Exeter, Hampton, Hampton Falls, Lee, Manchester, Newington, Newmarket, North Hampton, Portsmouth, Raymond, Seabrook and Stratham.
1984
Added and named bus routes:
Route 1: Greater Rochester-Milton-Farmington
Route 2: Rochester-Somersworth-Dover-Newington-Portsmouth
Route 3: Durham-Dover-Durham
Route 4: Durham-Malls-Portsmouth
Route 5: Durham-Newmarket
Route 6: Durham-Newmarket-Exeter
1985
Added Route 7: Berwick-Somersworth-Weeks Circle
1986
Extended Route 7 to the Wentworth-Douglass Hospital.
1987
Extended Route 7 to downtown Dover.
Added Route 7A: Dover-Rollinsford-South Berwick
Added Route 8: Portsmouth-Eliot-Kittery
By the 1990s, after Federal funding cuts had forced the elimination of some of the original routes in the 1988-1989 time frame, the primary contractor operating COAST bus services had become UNH Kari-Van. By this point, COAST had a total of 2 people on staff, and UNH Kari-van managed the daily bus operations and maintenance of the fleet.
1994-1995
COAST reinitiated Route 6 (Farmington-Rochester) and Route 7 (Exeter-Stratham-Portsmouth-Newington), once again making a public transit service connection between more rural parts of the region with the urbanized cities of Rochester, Dover, Somersworth and Portsmouth. Both of the new routes were managed and operated under contract by third parties. The mid-1990s was also when COAST first began operating a complementary ADA paratransit service for individuals with disabilities.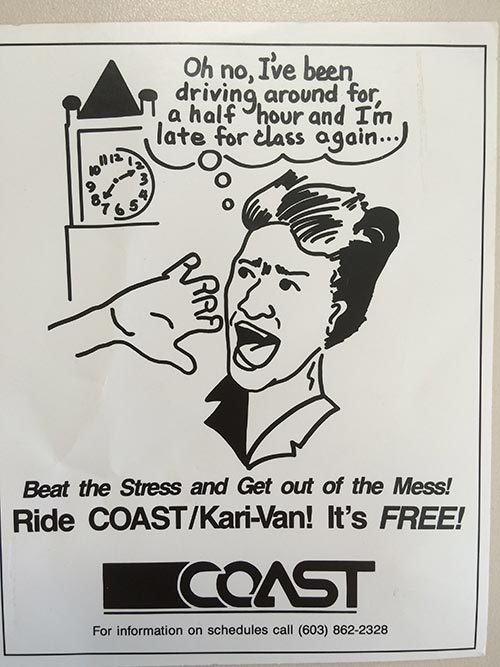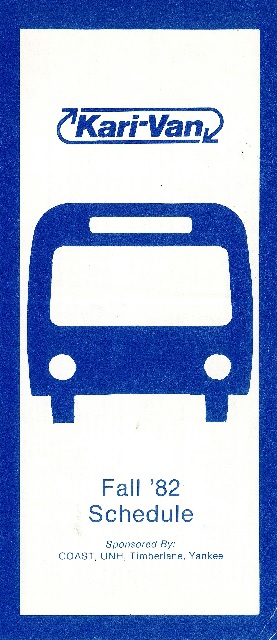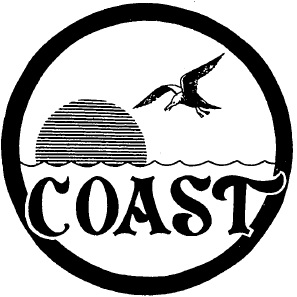 COAST Evolves (1998-2000)
Although UNH had been tightly linked to the very existence of COAST as a public transit agency, differences between the missions of the University and COAST caused the organizations to split in 1998. At the time, the University was operating five regional routes (Routes 1-5) which comprised the bulk of COAST's system, including a fledgling ADA paratransit service.
Despite the split between the organizations, COAST and UNH agreed to maintain a reciprocal fare agreement, and to keep Kari-Van's original three regional bus routes (Routes 3, 4 and 5) running and open to the public. COAST contracted with a new private company, Ryder/First Transit, to operate the other two routes that had been previously operated by the University (Routes 1 and 2).
After several years of struggling with the operation, COAST discontinued its contract with Ryder/First Transit in late 2001. On December 10th, 2001, COAST reorganized to become a primarily self-operated system, taking on the day-to-day management and operation of the bus routes and ADA paratransit services. COAST then re-hired most of the drivers who had worked for the private contractor only the night before. It was the start of a whole new era at COAST.
Meanwhile in 2000, COAST had reached an agreement to purchase the C&J Trailways facility in Dover, leasing back space and contracting with C&J to perform vehicle and facility maintenance on behalf of COAST. The site, located at 42 Sumner Drive site in Dover, was the first facility COAST had purchased to house its staff, fleet and operation.

COAST Undergoes Significant Growth (2000-Today)
Between 2000 and 2002, COAST underwent an incredible transformation as it grew in nearly all measures (staff, passenger trips, vehicle miles, etc.) by triple digit percentage points.
2000
COAST purchases former C&J Trailways facility in Dover and moves into new, permanent home.
Year-round trolley service (Trolley Routes A and B) introduced serving Portsmouth and Pease International Tradeport.
2001
COAST reorganizes from primarily contracted operation to in-house management of operation.
2003
A redesign of the year-round trolley routes in Portsmouth results in current Pease/Lafayette Trolley routes.
2008
COAST celebrates 10 millionth passenger trip.
COAST and the City of Dover introduce first of planned three-phase "FastTrans" project.
2009
Phases two and three of FastTrans introduced. Dover enjoys the highest level of public transit service of any community in New Hampshire.
2010
COAST crosses the 50 employee threshold.
In conjunction with the Alliance for Community Transportation (ACT), a new staff member comes on board to take the lead in developing a regionally coordinated human-service transportation and public transportation system.
2011
A new demand response service called the "North Bus" service is established in five communities north of Rochester that previously had no public transportation options.
2012
At 506,514, COAST's annual passenger trip total breaks all previous records and represents a 138% increase in ridership from ten years prior.
COAST initiates the new Clipper Connection service, reintroducing a public transit option for employees at the Portsmouth Naval Shipyard for the first time since the mid-1980s.
Initiated a major improvement in the frequency of Route 2 and the Trolley schedules as part of the mandated environmental mitigation measures for the Little Bay Bridge construction project.
A renewed focus on quality at every level allowed our organization to grow to become what it is today. Today, with a top-notch maintenance program, a modernized bus fleet, and extensively trained operators, COAST's name is associated with professional and highly-respected transportation in New Hampshire.
COAST's Future
For 35 years, COAST has been focused on continual improvement, delivering the highest quality services possible, and sustaining an excellent work environment for our staff, all while operating in one of the few states in the nation that effectively does not support public transportation operations.
In order to continue to build on our success in this environment, we have very purposefully set ourselves on a pathway to success. For six months in 2016, COAST undertook our first ever comprehensive strategic planning process. It was an incredibly re-energizing process that involved all staff within the organization and the board of directors. The process was very deliberate as we worked together to evaluate all aspects of our current business model and operations.
Together, we explored how we wanted our services, partnerships, collaborations, work environment, dynamics, and reporting relationships to be, and developed a pathway to get there. The product is a comprehensive plan that, with annual updates, will carry us through the next three to five years.
The core guiding elements of our organization, (the "foundation"), is now reset after a number of years of explosive, and sometimes painful, growth. We are very proud of our restated mission and our new goals, values and vision for the organization. As we rolled the document out internally to our staff, there was immediate engagement in and a renewed sense of pride for being part of an organization that truly improves the quality of life for the region's residents, employees, employers and visitors.