At COAST, we believe in the importance of giving back to our communities. COAST Cares is a staff-lead initiative to make a difference by giving to local charities who support causes that line up with our values.
COAST Cares Campaigns:
April 2022 - Earth Day
On Earth Day COAST staff volunteered to make our corner of the world a little greener by cleaning up trash along Sumner Drive (our street) in Dover. We removed over 15 large bags of trash as well as larger solid wast materials. In comparison to before the cleanup, Sumner Drive looked fantastic!
A simple, small effort to make a meaningful impact in our community.
September 2021 - NH Police, Fire, EMS Foundation
In observance of the 20th anniversary of September 11, 2001, COAST donated all fares collected on Saturday, September 11 to the New Hampshire Police, Fire, and EMS Foundation (nhpfef.org). Combined with donations collected from COAST staff members, COAST was able to donate a total of $536.83. 
December 2020 - NH Food Bank
In December of 2020, COAST held a Holiday Raffle Fundraiser that sold $5 raffle tickets to staff for the opportunity to win several winter-themed prizes. As a result of that fundraiser, COAST was able to donate a total of $505.00 to the New Hampshire Food Bank.
September 2019 - Strafford CAP
COAST held a series of "Jeans Day Fridays" to raise money for the Community Action Partnership of Strafford County. On Fridays, COAST employees who donated $5 to the fundraiser were allowed to wear jeans to work for the day. Through this initiative, COAST collected and donated a total of $280. 
November 2017 - "Giving Tuesday" donation collection to benefit adults with disabilities and seniors who are in crisis
For the month of November, COAST raised funds to support the Adult Protective Workers at the Bureau of Elderly and Adult Services (BEAS) that help seniors and adults with disabilities who are in crisis. COAST staff and patrons raised a total of $1,875 to help DHHS clients in need.
COAST employees were encouraged to participate in the fund-raising campaign by taking part in "Jeans for Charity Fridays," where staff donated $5 each Friday to wear jeans during their shift.
In addition to the $5 jeans donations, COAST donated all collected cash fares from their vehicles, as well as additional donations from the community, on Tuesday, November 28, in honor of Giving Tuesday. The public was encouraged to contribute cash or gift card donations on any COAST vehicle that day.
All funds raised during the campaign were used to purchase $25 gift cards for these crisis intervention workers at BEAS to use when someone reports a concern about abuse and/or neglect. Often times these case workers find seniors (disabled and not) without food, toilet paper, or other basic necessities, and these workers have very few resources to truly be able to help them. 
"COAST Cares is a wonderful way for COAST to give back to the communities we service," stated Vanessa Polychronis, COAST Community Liaison. "The program mirrors our organizational values and goals to be active, compassionate members of our communities."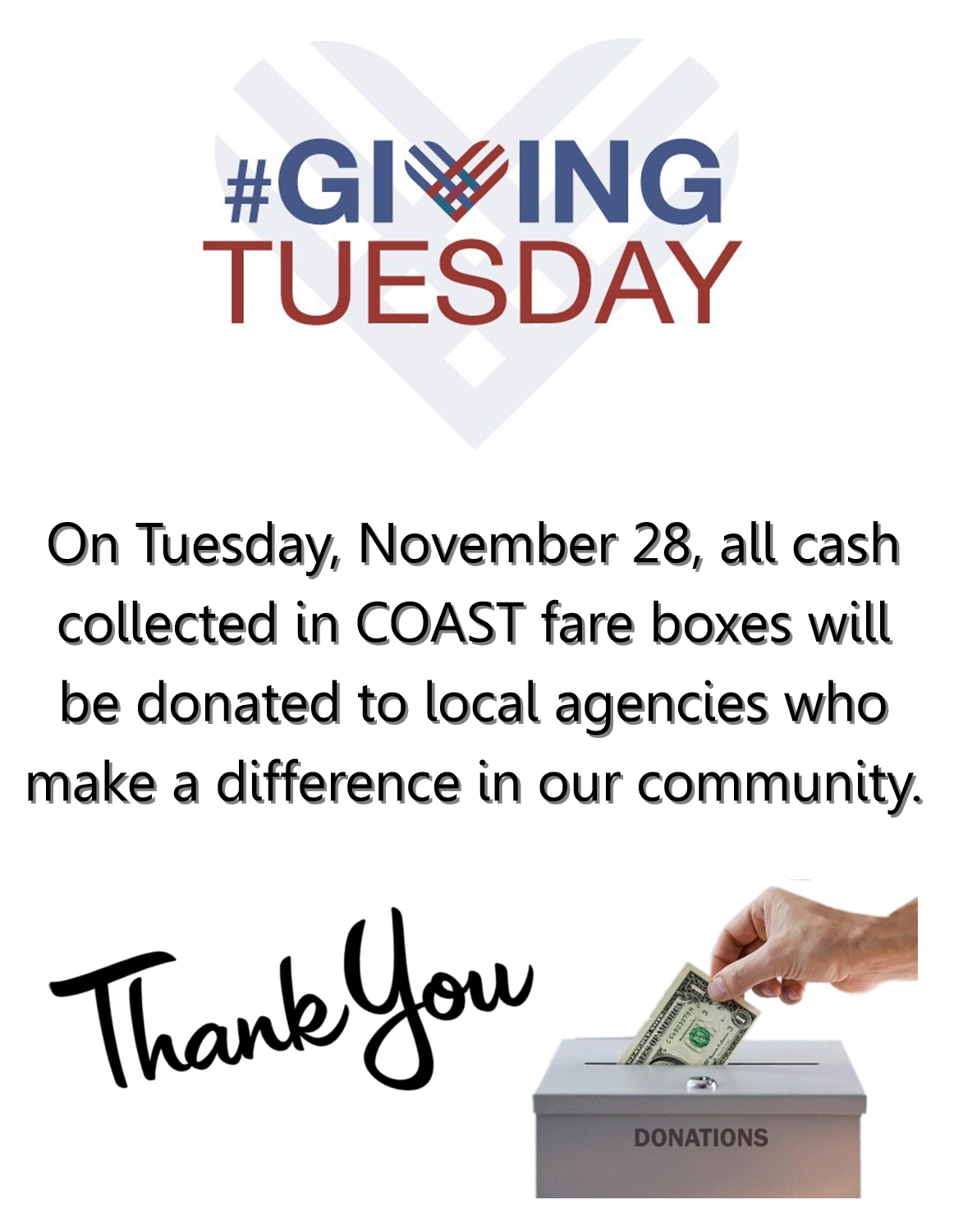 February 2017 - Food Drive to benefit End 68 Hours of Hunger
On Tuesday, February 28th, COAST donated $1,850 of collected bus fares and 6 boxes of food (donated by COAST staff and COAST patrons) to the End 68 Hours of Hunger program.
The money and food was divided equally among each of the six End 68 Hours of Hunger Chapters that operate in the communities COAST serves. 
End 68 Hours of Hunger is a program that puts nourishing food in the hands of school children to ensure they have access to food through the weekend.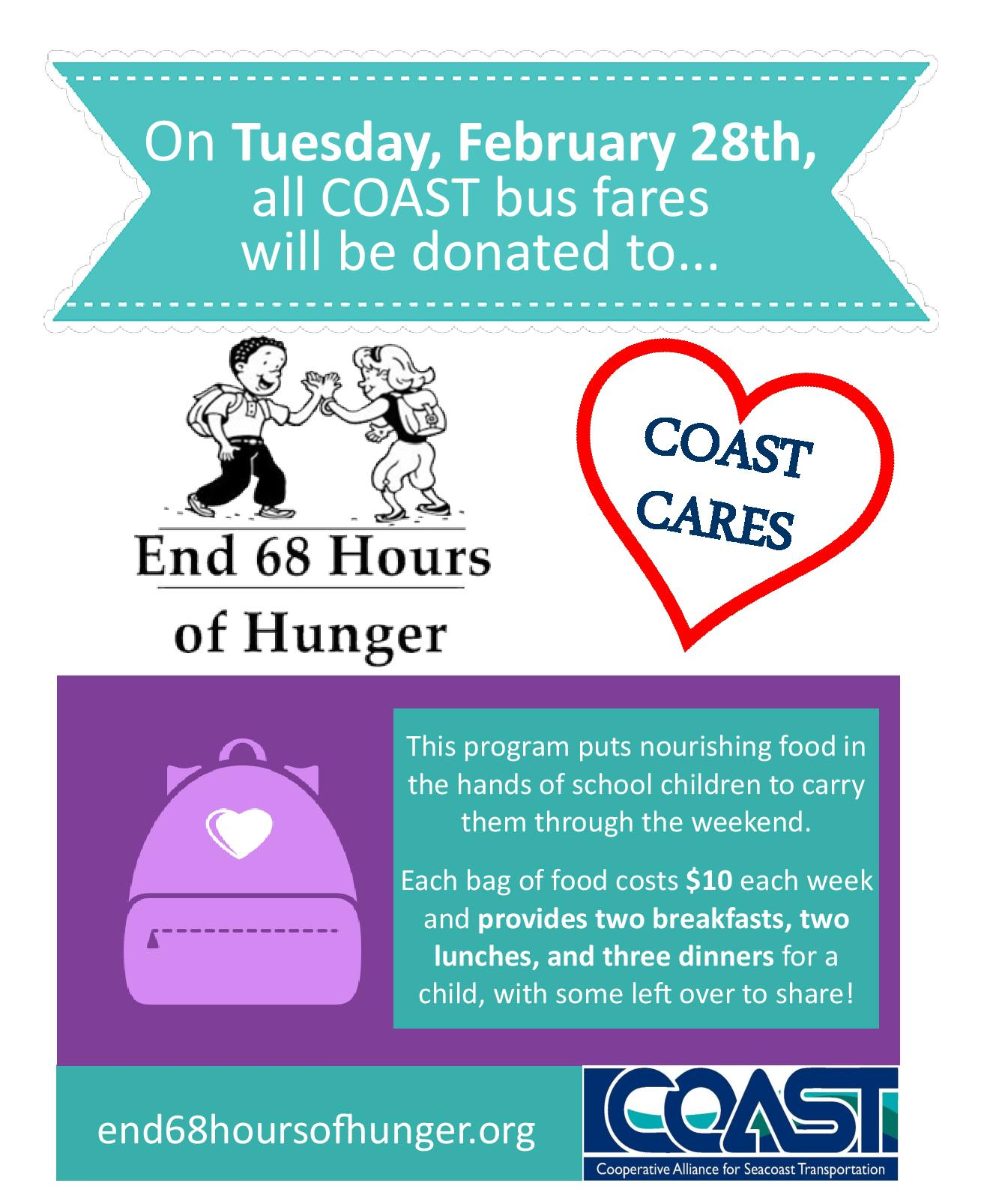 February 2016 - "Day it Forward" donation collection to benefit the NH Food Bank
On Leap Day, COAST decided do to something special with the extra 24 hours we all had in 2016 and raised over $1,800 in donations for the NH Food Bank as a part of their #DayItForward campaign.
Read our press release about our first COAST Cares campaign and the tremendous results.