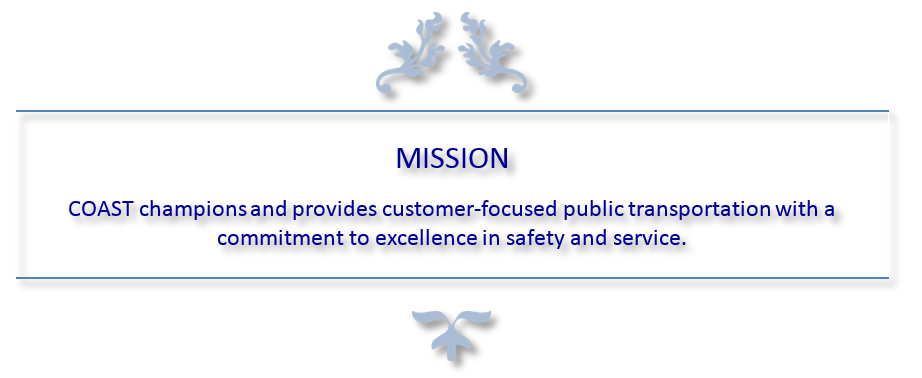 Vision
COAST is an innovative leader in providing a broad range of public transportation services, connecting and coordinating a robust network of transportation options for everyone.
Values
We treat everyone with respect, kindness, and compassion, and as we would like to be treated. 
We conduct ourselves professionally and with integrity.
We are responsible for our actions and accountable to each other. 
We are good stewards of the public's trust.
We welcome and encourage respectful, honest, constructive communication in the organization. 
Our open door policy encourages all staff to express concerns, share ideas and information, and provide feedback.
We actively communicate our decisions. 
We follow through on our plans and intentions. 
We regularly question "the way we have always done things" and encourage creativity and innovation. 
We do not accept today's best as tomorrow's limitations. 
We celebrate our individual and organizational successes.
Goals
We ensure a welcoming and helpful environment resulting in positive experiences for our passengers. 
We are committed to changing perceptions to ensure that public transportation is widely accepted as a reliable, comfortable, convenient mode of choice for everybody. 
We actively engage our stakeholders in collaborative efforts to be responsive to the region's changing needs. 
We promote fiscal stewardship of public transportation. 
We ensure that our fleet of vehicles is well maintained. 
We encourage an environment where employees' feedback is integral to our shared success. 
We support ongoing professional development and training. 
We maintain open communication between and among all levels of staff. 
We conduct ourselves with fiscal integrity and transparency that respects the taxpayers and the municipalities that we serve. 
We serve southeastern New Hampshire and surrounding areas.