Moving Toward the Future - An Administrative, Operations, and Maintenance Facility for the next 40+ Years
ABOUT COAST
The Cooperative Alliance for Seacoast Transportation, more commonly known as COAST, is a registered 501(c)3 nonprofit public transportation agency whose mission is to champion and provide customer-focused public transportation with a commitment to excellence in safety and service.
COAST is an innovative leader in providing a broad range of public transportation services, connecting, and coordinating a robust network of transportation options for everyone.
COAST annual operating budget ranges between $6.5 and $7.0M, which is funded primarily through a blend of grants and appropriated federal, state, and local dollars. Other important sources of funds include partnership agreements, passenger fares, and advertising revenues.
CONNECTING PEOPLE AND PLACES
COAST connects people and places in two primary ways: with fixed route buses that connect 10 communities across the Greater Seacoast area; and by providing demand response services for older adults and individuals living with disabilities in and between 13 communities in New Hampshire and Maine.
COAST also supports demand response services operated by other nonprofit agencies throughout Strafford and Rockingham Counties, providing a critical link between communities and the support service their residents need.
Since 1982, COAST has given over 16 million rides to people in the Greater Seacoast region, linking them to work, school, doctor appointments, shopping, and social events.
DRIVING THE SEACOAST ECONOMY
As COAST has grown and expanded over the years from a staff of one to 70, so too has its contributions to the region both as a critical transportation resource and as a driver of the economy.
A 2021 economic impact study conducted by the Strafford Regional and Rockingham Planning Commissions found:
COAST's direct, indirect, and induced effect on spending on the local economy, as well as the economic impact of access provided by their services, is estimated at $25.9 million annually.
Every dollar invested in COAST, whether by riders at the fare box or by the towns that COAST serves, generates approximately $4.08 of activity in the local economy.
Just as the region's road network represents a metaphorical gameboard of Life on which the region moves, COAST buses are player pieces used to move people around the region to interact with the local economy and each other.
THE NEED
COAST's ability to achieve its mission rests upon having a fleet of well-maintained and safe vehicles. The current maintenance and operations facility at 42 Sumner Drive in Dover, NH is now insufficiently sized, reaching the end of its expected lifespan, and is in need of replacement. Based on a lengthy planning and input process, COAST has embarked on a plan to build a new facility on its current property.
As a region, a robust public transportation system is an essential component in our economic growth over time. COAST's ability to maintain current transportation services or expand to meet future need will be determined by the completion of this new facility.
An investment in COAST's new facility is a down payment on the future and has the potential to be transformational for public transit in the region. The new facility will allow COAST to help further drive and support the economic growth of the Seacoast.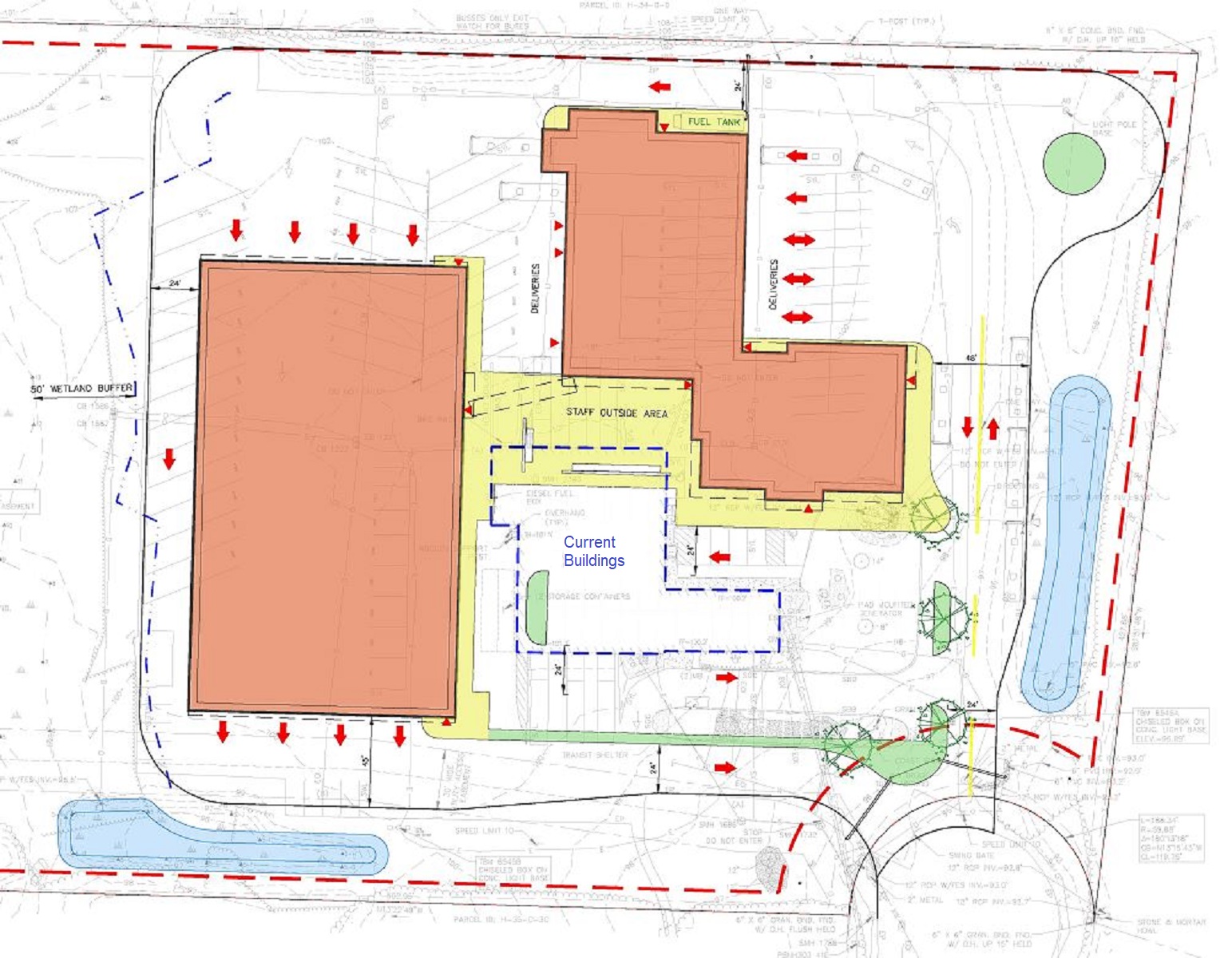 THE IMPACT
The mission-critical new facility's efficiently planned and right-sized space will result in:
Safer, affordable, and efficient operation for our passengers
Better customer service
Increased safety on-site for staff
Reduced ongoing operating costs (>$70K annually)
Extended useful life of our fleet and reduce weather related maintenance
Reduced environmental impact of fleet through reduced vehicle idle times, lower fuel consumption (vehicle idling in winter will be reduced by approx. 1,500 hrs. annually)
Lower carbon footprint through incorporation of current energy efficient building standards, including a solar array sufficien to satisfy the electrical demand of the facility
Prepare for the potential future transition to a hybrid or fully electrified transit fleet in the future.
PROJECT SCOPE
This new 48,000 square foot facility would both ensure COAST's ability to maintain current service and quality levels and to be positioned to be responsive and adaptable to future opportunities. 
The estimated coast of the new facility is between $15M-$17M. Funds for the project will come from a blend of sources, including up to $14M in Federal Transit Administration (FTA) capital grants, which will require $3M in matching funds. Additional potential sources of funding for the project include the State of New Hampshire, US Department of Energy, private foundations, private contributions, and loans, if necessary.
FUNDING AWARDS TO DATE
SFY22 NHDOT FTA 5339(a) Bus and Bus Facilities Capital Project Grant $4,023,716
SFY22-23 NH CDFA Tax Credit Program $417,000
FFY22 FTA 5339(b) Bus and Bus Facilities Capital Project Grant $7,736,284
FFY23 Congressionally Directed Spending Request (Transportation Infrastruction) $2,000,000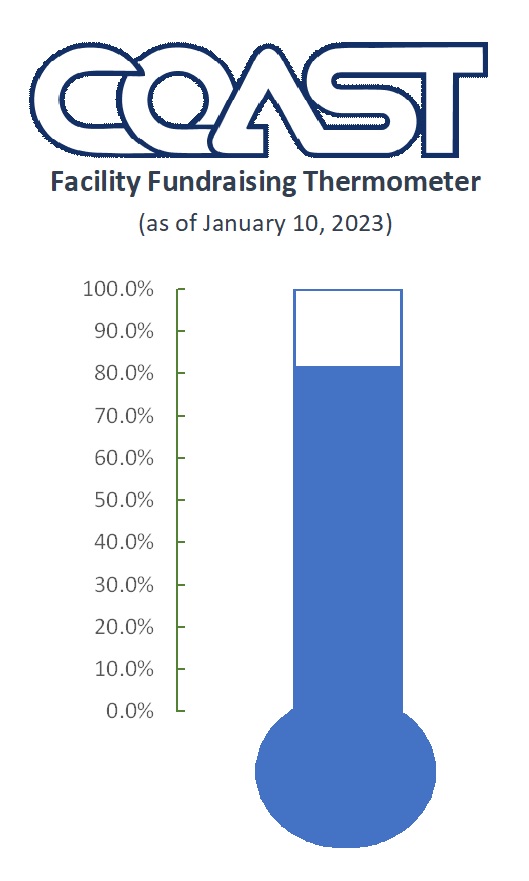 NH CDFA TAX CREDIT OPPORTUNITY
In the spring of 2022 COAST was awarded $417,000 through the NH CDFA tax credit program. Tax credits currently available to businesses for purchase include $257,000 for NH state fiscal year 2024.
When purchasing tax credits from COAST your company receives a minimum 75% New Hampshire state tax credit against that contribution. The credit can be applied against the Business Profits Tax, Business Enterprise Tax or Insurance Premium . The contribution may also be treated as a nonprofit donation for Federal tax purposes.
Businesses that have already taken advantage of this opportunity include:
First Seacoast Bank
Formax
Leone, McDonnell & Roberts, Professional Association
Meredith Village Savings Bank
Newburyport Bank
Office Interiors Ltd.
Piscataqua Savings Bank
Proulx Real Estate
The funds raised through the sale of these tax credits will support the construction of COAST's new facility and will allow the release over $1,330,000 of already awarded FTA capital grant funds for the project.
 
PROJECT TIMELINE
2022
Conceptual and Preliminary Design (Q4)
2023
Initial permitting process (Q2)
Permitting completed (Q3)
Begin final design (Q4)
2024
Complete final design (Q3)
Bid for construction (Q3-Q4)
2025
Phase 1 of construction (Q2-Q4)
2026
Phase 2 of construction (Q2-Q4)
BUDGET
Design & Permitting

 

$0.5M

Site work, building construction, and contingencies

 

$14.2M

Equipment and furnishings, including such items as vehicle lifts, fuel tank and fueling system, bus wash equipment, solar array, vehicle exhaust systems, and other fixtures, furnishings, and equipment

 

$2-2.5M
TOTAL PROJECT COSTS
$16.7-$17.2M