The lowest cost and most flexible transportation option provided by COAST is our local, regional, and commuter bus system. The buses are fully accessible and are used by individuals with disabilities on a daily basis. If you have not used the bus system, we encourage you to try it before applying for ADA Complementary Paratransit. You may be surprised by how accessible and convenient it is. 
However, there are some individuals whose disabilities prevent them from using the bus system. To ensure an accessible mobility option is available to everyone, COAST operates an origin-to-destination service as required by the Americans with Disabilities Act. 
For complete information about this service, please see our ADA Service Guide by clicking on the button below. 
ADA Complementary Paratransit Overview
Designed to be equivalent service to the local, regional and commuter bus routes
Only available to individuals who have gone through an application process to determine eligibility (see section below regarding visitors)
Origin-to-Destination Service (typically curb-to-curb, with assistance to the door upon request)
Serves locations within 3/4 mile of a bus stop
Operates the same times of day and days of the week as the bus at the nearest stop
Fare to ride is twice the base cash fare for the equivalent trip on the bus system
Advance reservations are required. No same day changes
Reservation times are negotiated based on demand - you may not get the exact pick-up time you request
This is a shared ride service, meaning there will likely be other customers on the vehicle with you, and you will likely not get a direct ride between your pick-up and drop-off. When making reservations, it is important to account for this in the time requested.
There is no restriction on trip purpose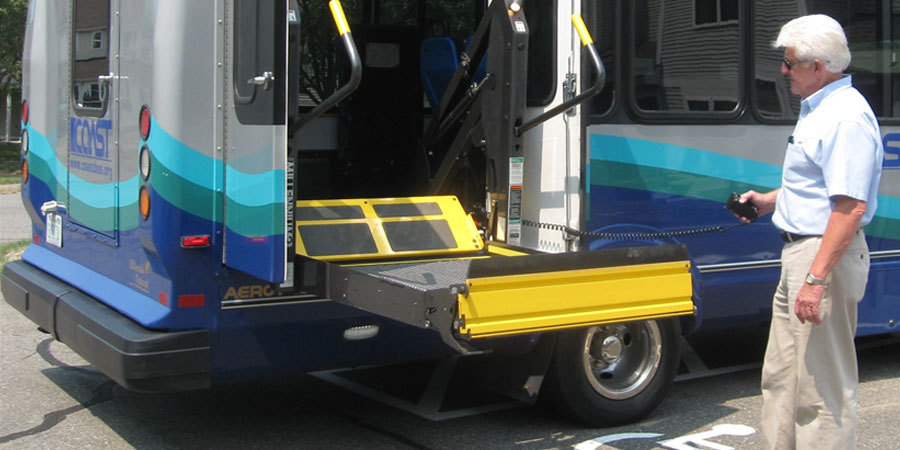 ADA Complementary Paratransit Eligibility
In order to be eligible for ADA Complementary Paratransit, you must have a disability that makes you unable to use the COAST local, regional and commuter bus system. This could mean your disability makes you unable to:
Get to the bus stop
Get from the bus stop to your destination
Board a bus, even with all accessibility features on the bus
Get off a bus, even with all accessibility features on the bus
Understand how to use the bus system, even with free training from COAST
Otherwise navigate the bus system due to a disability
The following factors are not used in determining eligibility for ADA complementary Paratransit:
Income and finances
Ability or inability to drive a car
The convenience or inconvenience of the bus system or other transportation options
Difficulty using the bus system (as opposed to inability)
Availability of friends and family
Eligibility will be determined as one of three options:
Unconditional Eligibility - you are eligible to use ADA Complementary Paratransit for all trips that fall within the ADA service guidelines (day of week, time of day, and service area).
Conditional Eligibility - you are eligible to use ADA Complementary Paratransit for some trips, but not all trips. Each trip will be individually evaluated to determine if it is eligible. For example, if you can get to the bus stop by your home, but your disability prevents you from getting from the bus stop to the library, you may be eligible for trips to the library. However, if there is no problem getting from the bus stop to the grocery store, you may not be eligible for trips to the grocery store. 
Ineligible - based on your current disability information, you do not qualify for ADA Complementary Paratransit. This means your disability should not prevent you from accessing all destinations within the COAST service area via the bus routes, which is more flexible and cheaper.
Visitors
ADA-eligible visitors from outside COAST's service area may also use COAST's ADA paratransit service for any combination of 21 days of service during any 365-day period beginning with the visitor's first use of service. Visitors who wish to receive service beyond this 21 day period must apply for eligibility through COAST. 
We ask that visitors contact us at 603-834-6010 or TDD: 1-800-735-2964 to schedule a reservation.  Documentation of eligibility for ADA paratransit service at another transit system for out-of-town visitors must be received prior to scheduling your reservation. If there is a concern regarding getting documentation from a transit system, please let us know. We will work with you to find a resolution, and are happy to reach out and speak with your home transit system regarding documentation.
If you are visiting from an area that does not have a transit system where you could have ADA eligibility, please let us know. You are still eligible to ride our ADA service as a visitor. We may request documentation of the presence of a disability and your home address so that we can verify your need for ADA complementary paratransit service and that you are in fact a visitor. However, you do not need to go through our normal eligibility process. If you have concerns about having any of this documentation, please let us know and we will work with you to find a resolution.
As a COAST ADA eligible customer, you are also eligible for visitor transportation at other transit systems. Your eligibility card should be sufficient documentation. However, if you need us to provide information to another transit system, please let us know and we will work with you.
Application Process
COAST uses the TripLink Common Application for all of its services.  The Common Application allows applicants to apply for multiple transportation services at the same time.
The TripLink Common Application can be completed online or you may download the pdf of the application.  You may also request that a paper application be mailed to you by calling TripLink at 603-834-6010.  Paper applications may be submitted by mail for fax.
Applying for ADA Paratransit service also requires a functional evaluation form to be completed by a health care professional.  If you complete the Common Application online, you will be prompted to provide TripLink with the name and contact information of the person that you would like to complete this form.
If you use the paper application, complete the Medical Release form at the end of the application and submit it along with the rest of your application.
Once your completed application has been received, COAST will contact you and conduct a phone interview. During the phone interview, you will be asked questions about your functional abilities and limitations that may keep you from independently using bus services for some or all of your trips. 
Upon request, COAST can set up a time to meet with you and discuss the service with you in person. This visit would take place at your residence in a COAST paratransit vehicle. Please let COAST staff know if you would like to request an in-person meeting. 
Within 21 days following the phone interview and verification of disability, you will receive a decision regarding your eligibility by mail.
If your eligibility decision takes longer than 21 days, you will have a right to paratransit service until you receive a final decision.
You will also receive a paratransit ID card as proof of eligibility.
COAST Paratransit Appeals Process
If you disagree with your eligibility determination, you may use the appeals process outlined for you when you received your determination letter. All eligibility decisions made during the appeals process will be final. However, if your condition changes and you believe that you have become eligible for ADA Complementary Paratransit service, you may reapply.
Paratransit Fares
The fare for a one-way ADA Paratransit trip is twice the one-way base cash fare of COAST's local, regional,  and commuter routes for an equivalent trip.
Accessible Formats Available
Contact Us
For more information about COAST Paratransit Eligibility Certification and Appeals Programs, please contact our eligibility coordinator at: (603) 743-5777, Ext. 108.
Non-Discrimination
COAST is committed to ensuring that no person is excluded from participation in, denied the benefits of, or subjected to discrimination in the receipt of, any of COAST's services on the basis of race, color, or national origin in accordance with Title VI of the Civil Rights Act of 1964 (Title VI).
ADA Complaint and Investigation Procedures
These procedures cover all complaints filed under the Americans with Disabilities Act of 1990, for alleged failure to adhere to the requirements of this Act or its supporting regulations in the operation of any program or activity administered by the Cooperative Alliance for Seacoast Transportation (COAST).
ADA Complaint and Investigation Procedures