Portsmouth Senior Transportation
What is Portsmouth Senior Transportation?
Portsmouth Senior Transportation is a partnership between COAST and the City of Portsmouth to provide sustainable, safe, convenient, and comfortable transportation options to Portsmouth Seniors and eligible adults with disabilities. COAST will offer a variety of shared-ride transportation services that will be operated by COAST staff and COAST-trained volunteer drivers.
For complete information about this service, please view the Service Guide below.
Who is eligible to use this service?
Portsmouth Senior Transportation is open to all Portsmouth residents who:
are ages 62 and over
have an eligible disability (ages 18-61)
Individuals who qualify under these conditions are eligible for subsidized trips with discounted fares (see section 3.0: Fares in the Service Guide).
Individuals from the general public who are 18 or older who do not qualify for the service under the eligibility conditions are eligible to use the service, but must pay the full cost of their trip (see section 3.0: Fares in the Service Guide).
When does the service operate?
Monday through Friday, 6:00 AM - 6:00 PM
Where can I travel?
When using Portsmouth Senior Transportation services, all trips must either originate or end within the City of Portsmouth. Trips may not exceed more than 5 miles beyond the Portsmouth City line, and must stay within New Hampshire, and Eliot or Kittery, Maine.
How much does it cost?
The fare you pay will vary based on the type of service you choose. (See chart below.)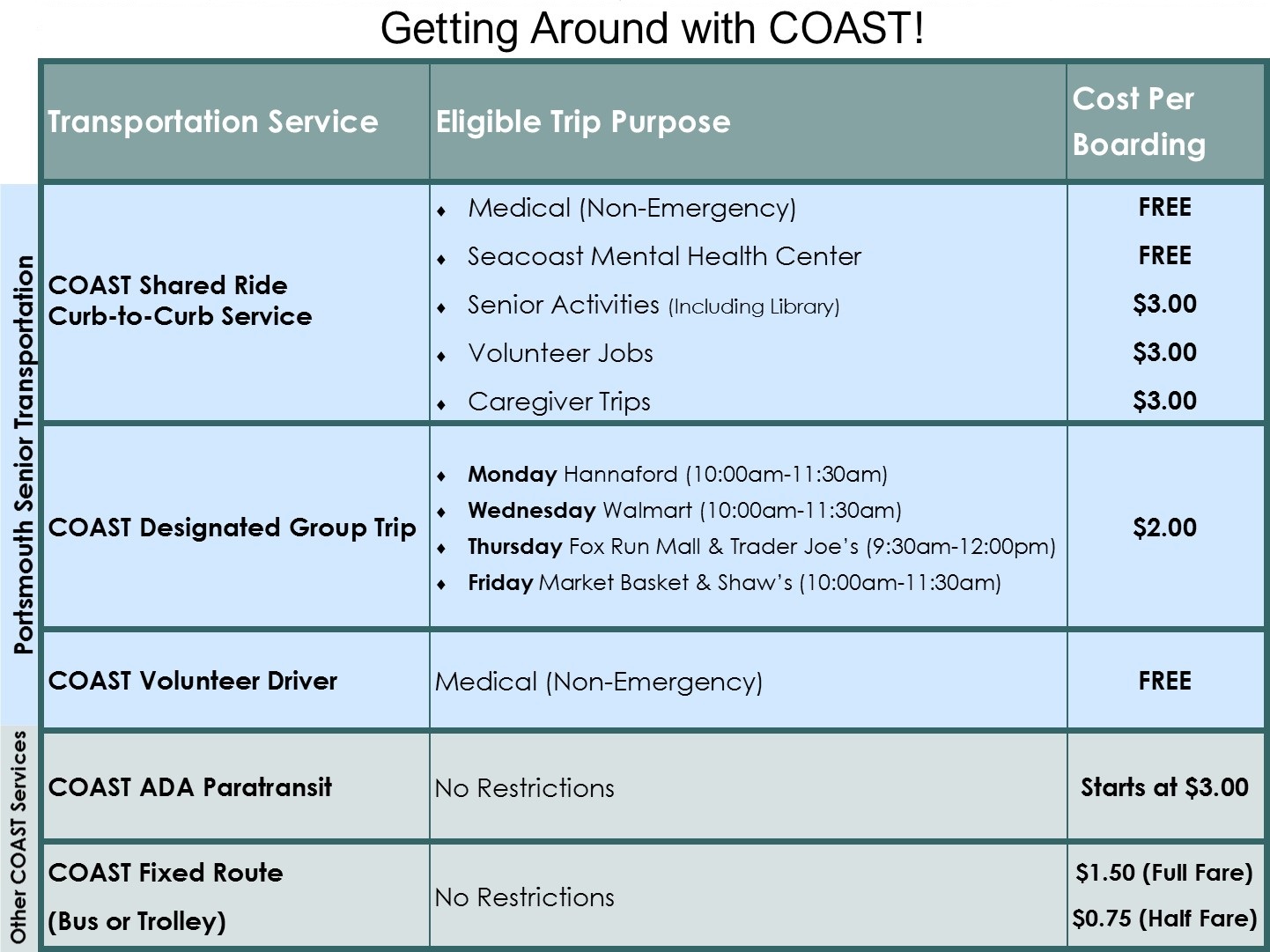 How do I pay?
For trips that require a fare, you can either pay with exact cash, or you can purchase a Multi-Ride Ticket.
Multi-Ride Tickets can be purchased:
How do I sign up?
There is an application process to verify your eligibility for the program. You will be asked to provide us with some basic information to confirm your age or disability status. You can download the paper application below, or you can request an application to be mailed to you by calling TripLink at 603-834-6010.
How do I schedule trips?
Once your application has been accepted, you will be able to start booking trips.
Simply call TripLink at 603-834-6010. Our friendly staff will be happy to assist you with scheduling your rides!
Trips on all Portsmouth Senior Transportation services require an advance reservation. No same-day trip requests are accepted.
How do I make multiple appointments for trips I take regularly (such as physical therapy)?
If you have regular recurring trips, like going to physical therapy on the same days of the week and at the same times, our staff can book your trips as a "standing order" for a defined period. Just ask our staff about this when you call TripLink.
Traveling with a Guest
All eligible passengers can bring one guest along with them. Your guest is required to pay the full fare. Please notify TripLink when you schedule your trip if you will have a guest with you.
Traveling with a Personal Care Attendant (PCA) or Caregiver
If you require a PCA/Caregiver to assist you during your ride or at your destination, that person is permitted to travel with you for free. Please notify TripLink when you schedule your trip if you will have a PCA/Caregiver with you.
Should I tip my driver?
While we hope that you enjoy your interactions with our staff and receive nothing but the best customer service at all times, we ask you to please refrain from offering your driver any tips or gifts. Simply letting us know that you appreciate our service is all the "tip" we need!
Please contact our staff at TripLink with any questions.
TripLink

[at]

communityrides.org
Become a Volunteer Driver for this program!