COAST's express bus service to the Portsmouth Naval Shipyard
Sit back and relax on your way to work - Let us do the driving!
By taking the Clipper Connection, you will save big money in gas and vehicle wear and tear. You will also be doing your part to reduce traffic congestion and air pollution. Don't worry - you won't be stranded at work if you have an unexpected personal or family illness/emergency or unscheduled overtime - our Emergency Ride Home Program is there to be your safety net!
Find out if taking the Clipper Connection to work is right for you. Clipper Connection services are available from Rochester, Dover, Somersworth, Berwick, South Berwick, Eliot, and Portsmouth. 
If you are a Shipyard employee and are interested in finding out more about the pass program (TIPS) please speak with your supervisor.
Clipper Connection FAQs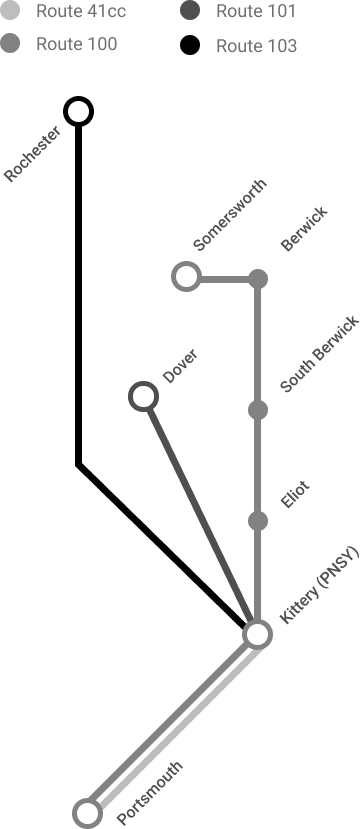 Who can ride?
The service is open to the general public. That said, the Clipper Connection buses primarily serve Shipyard employees.
Do I have to make a reservation?
No. Advance reservations are not required.
How do I pay?
The fare can be paid in cash, but most Shipyard employees take advantage of a pass program, offered through their employer, which significantly reduces the cost of commuting to work at the Shipyard.
How does the parking work?
The lots identified for parking on the schedule are mostly all free to park at. Some of the lots are public Park & Ride locations. Others are generally located at stores and plazas by agreement. The parking lot locations provide an option for riders who live too far to walk to the bus route, including those from nearby towns without bus stops.
Will my car be safe where it is parked?
COAST has striven to identify high-visibility parking lots and create agreements with the property owners. Where possible, COAST will use state or municipally owned Park & Ride lots. However, as with any public parking, COAST and the parking lot owners cannot be held responsible for theft or damages. Do not leave valuables in your car.
Can I wait inside my car until the bus arrives?
This depends on where you park; for lots where the bus will pull into the lot and pick up there, you should be able to wait in your car until you see the bus pull into the lot. The driver will wait a few moments to make sure people get out of their cars and walk safely to the bus. Examples of these locations include Tri-City Plaza in Somersworth, Friendly's/Shaw's Plaza in Dover, the Dover Transportation Center, and the Rochester Park & Ride.
However, several locations along each route include stops that the bus will pass if there is no one waiting. Parking in South Berwick is an example of this; riders must leave their cars and walk to the bus stop before the bus is scheduled to pass, or they will miss the bus.
Are the buses accessible?
Yes, just like the rest of the COAST fleet, the coach buses we primarily operate on the Clipper Connection routes are fully accessible.
Can the buses carry my bicycle?
Each of the buses can carry bicycles on the front bike rack. Capacity for bikes is on a first-come first-served basis. 

Emergency Ride Home
The Emergency Ride Home (ERH) Program is your safety net if you have an unexpected personal or family illness/emergency or unscheduled overtime. Allowable destinations include your car, home, child's day care or school, medical facility, or an interim stop that is part of the emergency.
Clipper Connection monthly pass holders are automatically registered for the Emergency Ride Home program.
The Emergency Ride Home benefit is available between 7:00 AM and 5:00 PM, Monday - Friday.
Please note the following do not qualify as emergencies:
Rides to work
Personal errands or pre-planned appointments during the workday
Scheduled overtime
On-the-job injury
Transit system failures
Vehicle failure
Building closings
Early releases from work
How to use the emergency ride home program
If you have an unexpected emergency and need to return home (or to your car), you can call COAST dispatch at (603)743-5777, Option 1. You will be asked about pick-up and drop-off locations and the dispatcher will let you know how soon to expect your ride (usually within 20-30 minutes - depending on traffic).
The project is funded in part with support from the USDOT under the FTA's Section 5307 program.