6

Route 6 - Farmington / Rochester
Route 6 is undergoing a re-timing, along with the rest of our fixed-route bus system, in July 2018.
For more information on the upcoming changes, please see the resources available here.
Schedule
(Effective 06/06/18)
Legend:
Stop Info
Connections
Weekday Schedule Notes:
The 7:30 AM, 1:36 PM and 6:06 PM runs will continue up NH 11 and drop off passengers at High Street, Trotting Park, Orchard Circle, Lilac Street and the Old Courthouse in that order.
We're On The Route
We're On the Route is a partnership between COAST and Seacoast area businesses.  It lets you know what stores, restaurants, entertainment, apartments, and services are easily visited by using COAST bus routes.
Be on the lookout for our sticker in the window of participating businesses.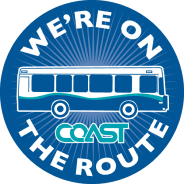 Services
Location
Nearest Stop
Food & Drink
Location
Nearest Stop
11 Farmington Road, Rochester
N
Farmington Rd. (Greenwood Inn)
S
Farmington Rd. / Cardinal Dr.
101 North Main Street, Rochester
N
North Main St. / Cove Ct.
Retail Stores
Location
Nearest Stop
82 Wakefield Street, Rochester
S
Wakefield St. (Rochester City Hall)